Promote reorders and subscriptions
Increase lifetime value with automated text messages for product reorders and subscriptions.
Let subscribers be the first to know about restocks
One of the perks of your WhatsApp & SMS program should be sending back-in-stock announcements to subscribers before anyone else. They'll be happy to get their hands on your best-sellers before they sell out again!
Build loyalty with educational content and rewards
Turn a one-time purchase into a loyal customer through post-purchase education and loyalty rewards.
Use post-purchase automation to send product use and care instructions. Take it a step further by sending promotions and reminders about your loyalty reward programs over Whatsapp & SMS.
Provide support in two-way conversations
Use WhatsApp and SMS to engage in conversations with customers. Provide support and gather customer feedback—all over messages.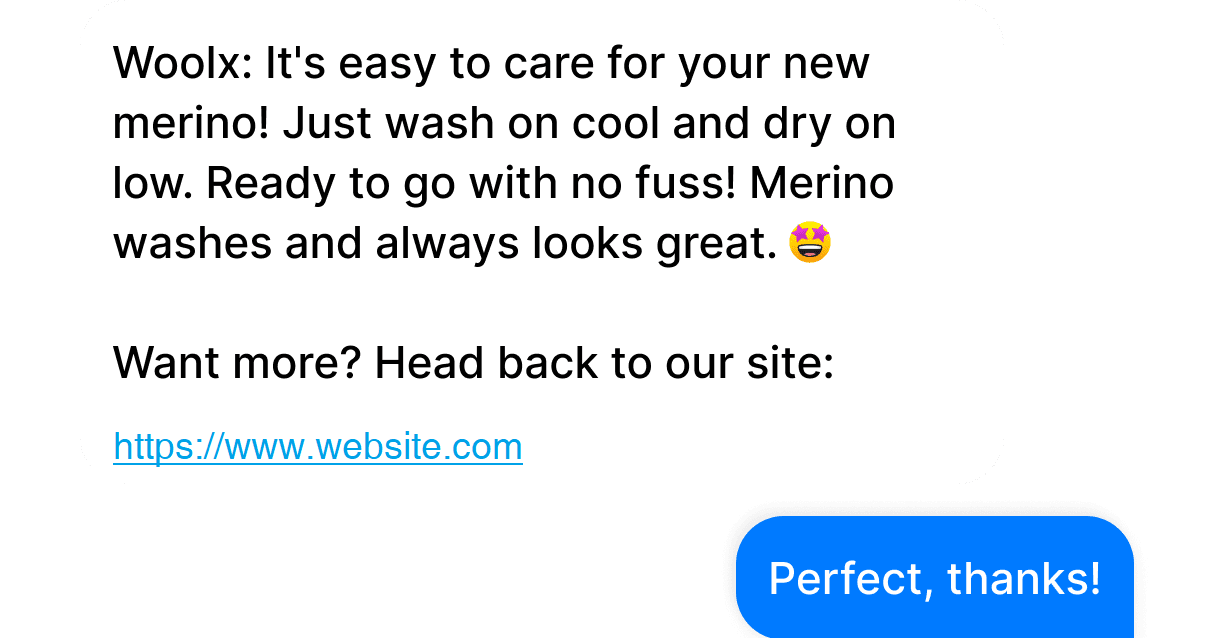 Send product care instructions after purchase
Help customers keep their purchases looking pristine by sending product care instructions after purchase. With SKU-level segmentation, you can send different instructions based on the item they purchased.
Send shipping notifications
Keep customers informed on the status of their shipment. With WhatsApp & SMS, they'll never miss a notification.
Set up shipping notifications using data from your WooCommerce account or integrate TEXTBUQ with AfterShip, Wonderment, or another shipping and logistics platform (through our custom integration).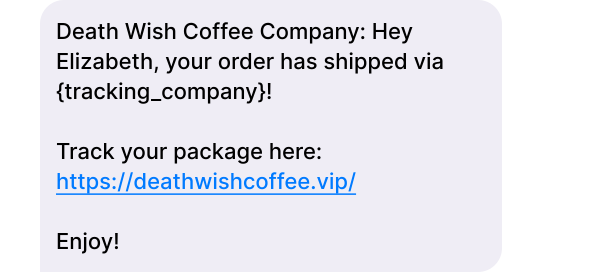 Collect product reviews
Customers on your WhatsApp & SMS list are highly engaged with your brand. Who better to ask for a product review?
Integrate TEXTBUQ with Okendo, Swell, or Junip to send automated review requests over text.
Use WhatsApp and SMS Marketing For Skyrocketing Engagement.
Start Re-engagement Campaigns
Utilize WhatsApp & SMS marketing services to re-engage users with unique messages and deals.
Personalized Promotional Messages
Send bulk personalized WhatsApp & SMS campaigns at scale! Your customers get the most out of your offers.
Integration with WooCommerce
Inform buyer the current order status / whenever order status is changed, All WooCommerce order statuses are supported.
No Code Implementation
TEXTBUQ is built to support growing businesses. A quick & simple drag-and-drop approach is all it takes.
Native Integrations
Integrate WhatsApp & SMS with your CRM, Google Sheets, etc. to ensure that you have a well rounded customer experience.

Technical Support
Complete Knowledgebase to help you achieve your SMS & WhatsApp Marketing Goals. Submit your issues on tickets.